# Records Requests & Management
Why You Should Be Publishing Your FOIA Requests
Overall, publishing record requests is a powerful way to:
Reduce staff overhead
Save money
Eliminate duplicate work
Improve community perceptions
Publishing Doesn't have to be Controversial
The decision of whether or not to publish records starts at the agency level and can be a divisive topic, especially with internal staff. Individuals who are risk-adverse tend to err on the side of "do not publish" for fear of lawsuits or other such consequences. As you read on you'll find that the benefits of publishing far outweigh the negatives and the adoption of proactive publishing mind-set by department staff is the very first step.
We recommend getting verbal buy in from all departments that manage records requests at your agency. We especially recommend consulting your legal team on considerations as to whether certain requests should be published when coming up with your policy. If you encounter resistance go ahead and cite the following as benefits of publishing.‍
Benefits of Publishing Public Documents
It will reduce the personnel burden associated with repeat requests
It will get information to the community faster
It will help your agency prioritize records requests more efficiently
It will save your agency money‍
Sixty-Five Percent of our Customers Proactively Publish
Of those customers, the average number of records they publish is 52%, with some as high as 99.9% published. In a recent news story about an update to public records law in Massachusetts, a NextRequest user from the town of Bourne told the Cape Cod Times that they look at publishing "as a time-saving feature. We won't have to answer the same question twice."
Of course there are times when publishing doesn't make sense. Deciding to have a policy of proactive publishing doesn't mean you publish everything. There will always be some cases where it's not appropriate to publish, and they can choose to keep those requests/documents private. That way, you can allay potential concerns that it has to be all or nothing.‍
‍CASE STUDY: Sacramento County, California
Sacramento County publishes 71.3 percent of its PRAs‍
The county processed 2,549 FOIA requests with the CivicPlus® NextRequest software in 2018 alone. The County has utilized the software for several years, and during that time, it has amassed quite the library of both published requests as well as public documents on its NextRequest portal with numbers in the thousands.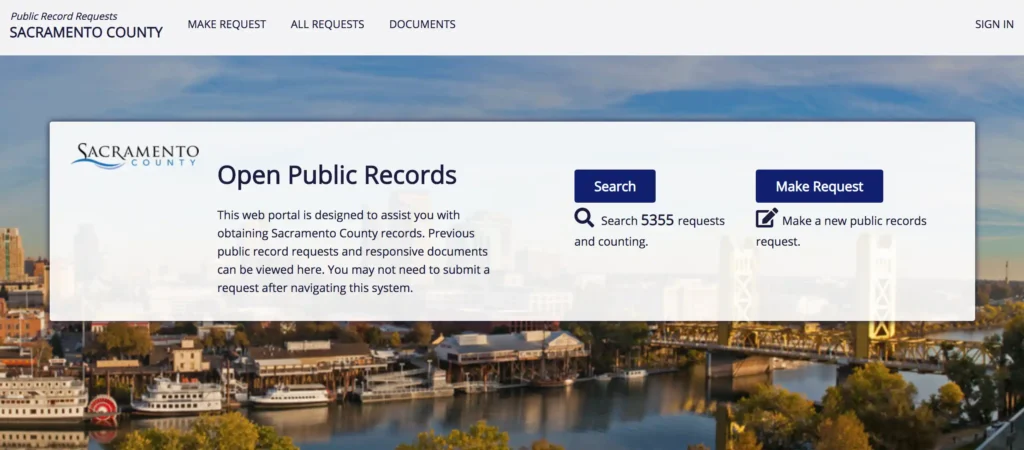 A quick search through the county's published documents shows that a PDF published in 2016 has been downloaded 239 times. This means that the county has reduced up to 239 PRA requests to their agency by having this information publicly available online. The summation of all downloads of their published online records is in the thousands, ultimately saving the county thousands of hours of duplicate work.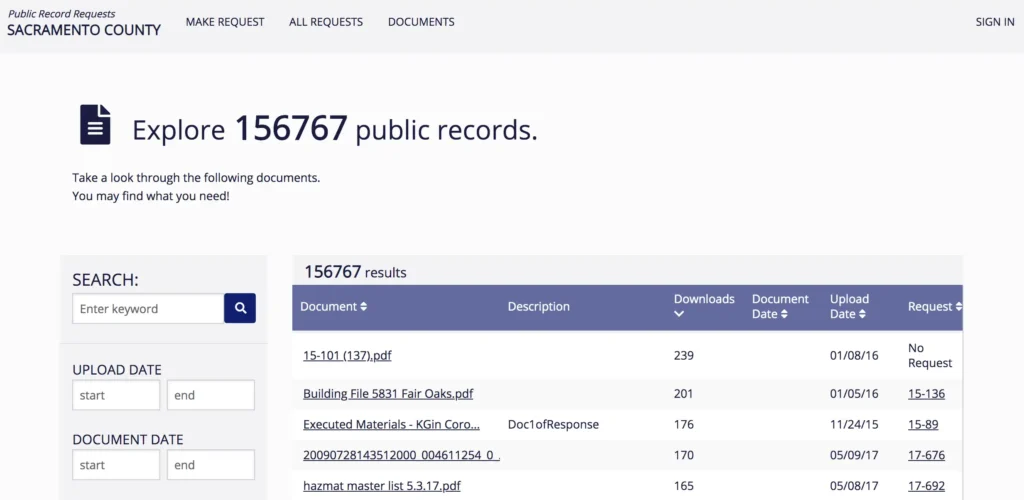 Reduce, Reuse, and Publish Public Records
Why repeat work when you can automate it? Records requests have risen 460 percent nationwide in the last six years, and based on what we're seeing with our customers, this number is continuing to rise. Get proactive and publish documents and requests to the public so you can focus your energies on those super complicated, nebulous, and difficult requests that all agencies get and struggle to fulfill.
Be honest: do you really like brushing your teeth? It takes time out of your day, and the results aren't necessarily immediately visible (unless you've just had a nice glass of Pinot Noir). Brushing your teeth isn't like the immediate results you can see from walking out of the barber or salon. The reality is that brushing your teeth daily prevents work in the future. This is how we think about proactive publishing of FOIA requests — that getting into the habit of doing it daily or even weekly will prevent future work.