Montrose, CO Leverages CivicEngage to Create a Community Web Portal
"Stay here. Play everywhere." It's the slogan for Montrose, Colorado, a rural community of 20,000 citizens ideally nestled between national forests, rugged mountains, and winding rivers. The City of Montrose, situated within the County of the same name, has the distinct advantage of being near some of Colorado's premier recreational areas and attractions, making it an ideal place to live, and visit, for all sorts of outdoor enthusiasts.
While building its place as a favorite tourism destination, Montrose is leveraging its popularity with transient visitors to encourage permanent residency. With an ideal location that offers its citizens a high-quality life, the administrative leadership in Montrose has implemented a blended marketing strategy that aims to build tourism, attract permanent residents, and even convert temporary visitors into full-time citizens.
The reaction to our portal has been very positive," said Spear. "Our portal now tells a story about us. Our website is a first impression for people moving to the community and has even helped us recruit key employees.
David Spear
Operations Manager for the City of Montrose Office of Business and Tourism
To accomplish this multi-faceted strategy, the administrators at Montrose knew they would need an online presence that could effectively speak to each separate audience, and connect the two messages when necessary. To do so, it needed a powerful local government content management system (CMS) that would give it the flexibility to create and manage distinct, but related websites for all its municipal communication needs.
Before CivicEngage
Before partnering with CivicPlus, the City of Montrose, Colorado's local government website was self-hosted, using an open-source platform. The cumbersome CMS was difficult to manage and time-consuming to update internally. The website's capacity to serve as a timely and effective citizen engagement and communication tool was restricted by limitations in the platform's core features and capabilities.
"That was one of the drivers to go with CivicPlus and its CMS," said David Spear, operations manager for the City of Montrose Office of Business and Tourism. "We needed a user-friendly platform that would allow us to distribute administrative tasks across our organization and eliminate the need for external expertise. We were also ready to transition our website so that it was not hosted internally."
Like many municipalities, the administrative team in Montrose, Colorado is organized into collaborative departments, each of which manages a distinct aspect of the community's development and civic engagement. Its previous CMS, which was reliant upon a single workflow for updates, meant bottlenecks and delays. The leadership at Montrose knew they needed a CMS that would allow each department to autonomously manage its own content, but keep the branding and formatting of that message consistent for an optimal user experience.
CivicEngage Implementation
Spear and his team knew that transitioning the city's civic website from an internally-hosted, open-source website to an externally-hosted, robust CMS would require a thorough implementation.
"We were very pleased with the process to create the new website, particularly with the design phase," said Spear. "We were in a place where we were very open to design suggestions from the CivicEngage design team. Ultimately, what they created is now an award-winning website."
In 2008, the year it launched its new City of Montrose CivicEngage website, The City of Montrose, Colorado was awarded with the Pinnacle Award for Excellence in the category of City/County Small Populations. In addition, the City of Montrose won a Silver Circle Award from the City-County Communications & Marketing Association (3CMA), and would go on to earn a Public Technology Institute (PTI) award for its Montrose Community Portal.
Since then, Montrose has continued to maximize the CivicEngage CMS to help it meet its bifurcated, resident/tourist marketing strategy.
Montrose's Community Web Portal Strategy
After the successful implementation of the website for the City of Montrose, Spear and his team had an idea to further leverage the CivicEngage CMS to help them accomplish their marketing goals.
"We had good success with the roll-out of our city website, and that became a door to offering the same advantages to community partners. That is how the community portal concept started," said Spear. "Our team at CivicPlus worked with us to entice other community partners to work with us to build the portal concept."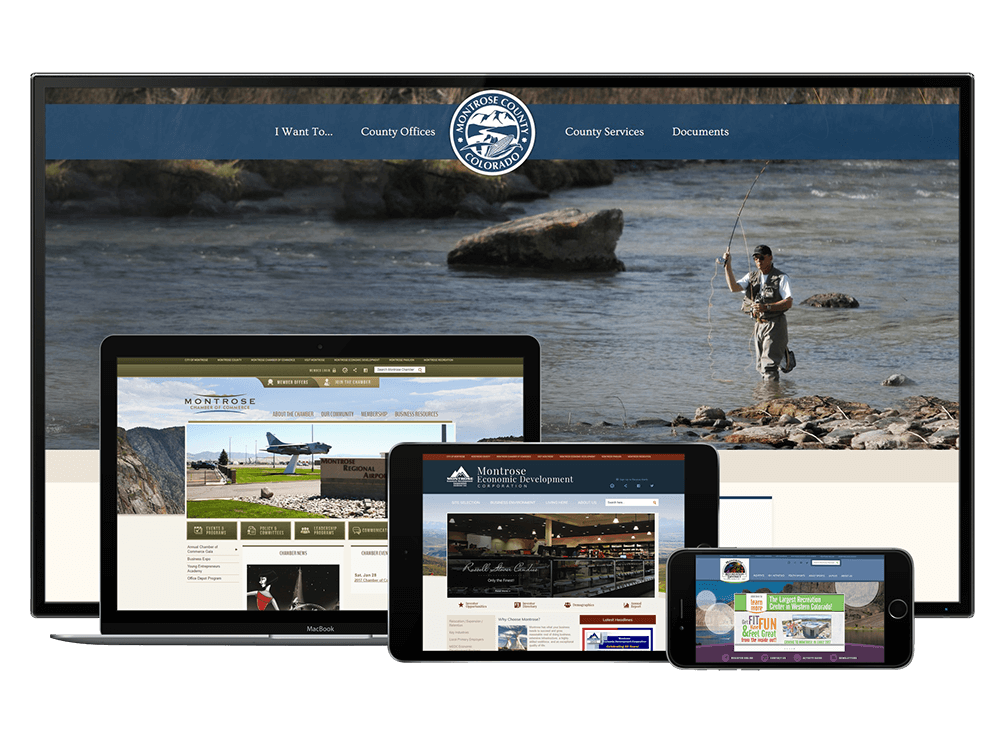 Today, Montrose, Colorado manages eight separate and distinct community portal websites, all hosted together using the same CivicEngage CMS. The sites include: the City of Montrose, Montrose County, the Montrose Chamber of Commerce, Visit Montrose, the Montrose Economic Development Corporation, the Montrose Pavilion Event Center, the Downtown Development Authority, and the Montrose Recreation District. Each portal website includes links to the other seven above the top navigation, making it easy for visitors to not only find the information they are looking for, but to realize how much their community has to offer. What made this successful design strategy possible was the ability to host each on the CivicEngage CMS.
"The common platform allows us to provide a more positive community image," said Spear. "When we started, we had lots of different agencies with inconsistently branded websites that didn't well-represent the community. Using CivicEngage, we could bring everyone to a higher level of web services and a more consistent look and feel. Today, the virtual front door to Montrose is extremely attractive. Also, our portal partnership strategy provides a mechanism to bring us all forward together from a design perspective, so that as we make updates to the look of our brand, no one website lags behind in features or functionality."
According to Spear, Montrose's portal approach has been well-received by citizens and visitors in the community.
"The reaction to our portal has been very positive," said Spear. "Our portal now tells a story about us. Our website is a first impression for people moving to the community and has even helped us recruit key employees."
Looking to the Future
The team in Montrose is continually looking for innovative ways to further its multifaceted marketing strategy using the tools available to it within the CivicEngage CMS.
"Our objective will be to better blend our community marketing with our municipal websites so that the overarching feeling that Montrose is both a community and a destination comes through in every aspect of our communications," said Spear. "We also plan to use our municipal website to introduce ourselves to businesses and encourage local partnerships."
As Spear and his team in Montrose look to the future of their digital properties, they know that they can rely on the team at CivicPlus to continue to evolve their solutions to meet Montrose's changing needs.
"The website features and functionality we've said we've really wanted, CivicPlus has already been working on," said Spear. "When we needed increased flexibility, it arrived at the right time. When we realized that we needed a responsive website, that capability arrived at the right time. We appreciate that CivicEngage is not a static platform. It is constantly being enhanced, which is why we've remained a CivicEngage client for nearly a decade."
Ready to Connect?
Stay up to date with the latest tips and news for local governments.