Ben Sebree, VP of Research and Development and Technology
Helping Build a Prosperous Future of Tech in Kansas
Ben Sebree knows the value of getting others involved. After all, his former mentor introduced him to Flagship Kansas, an organization dedicated to fostering a burgeoning Midwest tech sector, particularly among youth and teachers in the state. But long before he became a leader in the movement for tech education, he was a kid himself with a voracious appetite for technology and knowledge.
Whether it's future community leaders, the next generation of innovative minds, or simply kids with a keen curiosity about technology, Sebree knows it's up to all of us presently to pave the way for their success in the future by investing in and committing to the development of strong science, technology, engineering, and math (STEM) education tracks at all levels, from basic and advanced, that begin at an early age.
What kind of benefits can be expected from this type of investment in youth? Sebree himself serves as a shining example of what can occur. Today he serves as the vice president of R&D and technology for CivicPlus where he identifies opportunities for the company's integrated portfolio of unified applications to continue to meet the evolving needs of local governments and their residents. Sebree is responsible for defining the vision and strategy for Product Engineering, Information Security, Hosting and IT in order to enable CivicPlus' solutions to further serve as the foundation for all local governments' software needs. He has over twelve years of experience in the technology space with seven years focusing on enterprise platforms, integrations, IoT technology, AI, and CaaS. Products he's managed have received multiple industry awards, and today, his innovative processes still have numerous patents pending. In addition to leading CivicPlus' integrated solution offering, Ben holds dual Bachelor of Science degrees in management information systems and human resources, and a Master of Business Administration from Kansas State University.
It Starts with Education
Flagship Kansas works to build training opportunities, education programs, and state policies that foster tech-ed.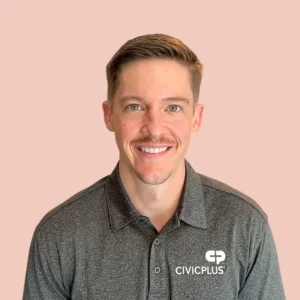 "We need to be providing quality access to computing courses starting at the primary and secondary school levels," Sebree said. "Over 65 percent of all new STEM jobs are in computing, and in Kansas, there is a high demand for these types of skills, yet we only graduate about 500 students in computer science in this state each year."
"We owe it to our youth to equitably set them up for the current world and the world of the future—a world driven by technology," said Sebree.
Cultivating an Awareness of Tech's Significance
When most people think of the tech industry, they think of Silicon Valley; Sebree thinks of the "Silicon Prairie," an area of rapid tech growth and development in the Midwest stretching from Chicago to Texas.
"One of the things we want to get people doing is spreading the word, talking with others about the great things in tech happening around them, and the great opportunities that exist right in their community and across their state," said Sebree.
Misconceptions can stunt growth, and Sebree reports that's another reason awareness is one of Flagship Kansas's core focuses. "When many people think of Kansas, they think agriculture, and while that's certainly accurate, we're also known for our healthcare and aerospace industries," Sebree said. "All of those sectors are driven by technology, and the more we speak up and spread the word, the more awareness we can spread."
Developing a Workforce
To bring tech jobs to Kansas, the state needs to be a place where companies and their workers thrive.
"It's a multi-pronged approach, "Sebree said. "You have to develop the talent you need at home while also attracting it. Then you have to retain that talent."
It's a balancing act, but Flagship Kansas continues to develop new strategies to produce, bring in, and keep tech talent in Kansas.
Goals For the Future
Flagship Kansas is a key supporter of the intent of Kansas House Bill 2466, which focuses on increasing the availability of computer science education in Kansas, providing access to students, and empowering teachers with the necessary resources to pursue professional development and certification.
"Only 27 Kansas high schools offer computer science," Sebree said. "We're trying to change that with our support of this legislation."
The support and hard work of many paid off. On Tuesday, May 13, 2022, Kansas Governor, Laura Kelly, signed HB2466 into law.
"It's fantastic news," said Sebree. "The state will now have opportunities for all Kansas students to have at least some exposure to CS education; regardless of how rural, diverse, poor, or wealthy they or their district are."
In terms of other goals and projects, Sebree mentions the victories and success they've seen with their education initiatives and that they're also developing an apprenticeship program within the organization.
"I can't stress enough how important computing knowledge and skills are across all disciplines," Sebree said. "From software engineering to accounting, to manufacturing and agriculture, we need to be empowering all Kansans with computing skills to allow the state and our residents to be set up for this changing and increasingly technology-driven world."