Public Records Laws and Social Media Retention in

Iowa
Iowa Open Records Law and Social Media
Chapter 22 of the Iowa Code governs open records and meetings in Iowa. In defining a "public record," the Law includes all records "preserved in any medium" as being subject to open records policy requirements. This requirement qualifies social media records in Iowa as public records.
Show Iowa law text
Excerpt from Iowa Open Records Law
3. As used in this chapter, "public records" includes all records, documents, tape, or other information, stored or preserved in any medium, of or belonging to this state or any county, city, township, school corporation, political subdivision, nonprofit corporation other than a fair conducting a fair event as provided in chapter 174, whose facilities or indebtedness are supported in whole or in part with property tax revenue and which is licensed to conduct pari-mutuel wagering pursuant to chapter 99D, or tax-supported district in this state, or any branch, department, board, bureau, commission, council, or committee of any of the foregoing.
"Public records" also includes all records relating to the investment of public funds including but not limited to investment policies, instructions, trading orders, or contracts, whether in the custody of the public body responsible for the public funds or a fiduciary or other third party.
Guidance From the Iowa Public Information Board
The Iowa Public Information Board (IPIB) is an independent agency appointed by the Governor and confirmed by the Senate, tasked with clarifying Iowa's open meetings and public records laws. The IPIB recommends that the Iowa Open Records Law define "public records" broadly enough  to "encompass email messages and other electronic correspondence." Its guidance suggests that social media records in Iowa do qualify as public records and should be preserved under Iowa Open Records Law requirements.
View the IPIB Guidance
Excerpt From Iowa Public Information Board Guidance.
Question:
(1) Are email messages and other electronic communications public records? (2) If so, how long must they be kept?
Answer:
(1) The definition of public records under 22.1(3) is broad enough to encompass email messages and other electronic correspondence. (2) State Records Commission policies govern the maintenance and retention of state agency records. In addition, various sections of the Iowa Code address other public records. For example, Chapter 372.13(5) contains requirements for retention of some city records, such as council minutes, ordinances and resolutions. Local government bodies are encouraged to adopt their own records retention policies and to follow them consistently. Deleting a typical email message under such a policy should pose no legal problems. However, if the message remains retrievable or recoverable then the government body would be obliged to provide it upon request, though the requester can be charged a reasonable fee for retrieval.
Iowa Social Media Records Management in Practice
Iowa City Public Library has implemented a comprehensive social media policy that clearly states its social media sites are subject to the Freedom of Information Act and the State of Iowa public records laws. The City and the Library have determined that departments are responsible for maintaining social media records in an accessible format and complying with public records requests for social media content. This framework is a reliable model for handling social media records in Iowa.
View the Iowa City Public Library Social Media Policy
Excerpt from Iowa City Public Library Social Media Policy:
General policy
8. Freedom of Information Act and e-discovery laws and policies apply to social media content and therefore content must be able to be managed, stored and retrieved to comply with these laws.
9. Iowa City Public Library social media sites are subject to State of Iowa public records laws. Any content maintained in a social media format that is related to Library business, including a list of subscribers and posted communication, is a public record. The Library is responsible for responding completely and accurately to any public records request for public records on social media. Content related to Library business shall be maintained in an accessible format pursuant to Library and City of Iowa City policy and practice so that it can be produced in response to a request. Wherever possible, such sites shall clearly indicate that any articles and any other content posted or submitted for posting are subject to public disclosure.
Social Media Record Retention Legal News in Iowa
Read about Iowa cases and precedents involving social media and public record retention.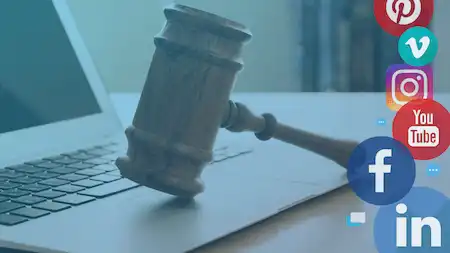 The director of Iowa's Public Information Board Is Advising Iowa Public Officials to Avoid Social Media Networks That Can't Be Archived For Public Records.
The director wrote a proposed advisory opinion urging elected officials and government employees not to use Snapchat and other smartphone apps that automatically delete communications in the interest of guaranteeing all residents' access to public records.
SOCIAL MEDIA ARCHIVING SOLUTION OVERVIEW
How Social Media Archiving Works
Download the Solution Overview to see how social media archiving helps you achieve public records compliance. Automatically retain every post, photo, comment and more from your social pages for record retention.