The CivicPlus® Social Media Archiving Solution Now Archives TikTok
The CivicPlus Social Media Archiving solution (formerly ArchiveSocial) is now archiving TikTok. Agencies and schools already using TikTok can save all their content in one place. If you're already a CivicPlus customer, learn more about connecting your TikTok account here. If you're not already a CivicPlus customer but want to archive TikTok, start your archive here.
According to the 2022 State of Social Media in the Public Sector survey, roughly seven percent of agencies and school districts already have a TikTok account. Sixteen percent are planning to launch an account soon, a ten percent year-over-year (YoY) increase.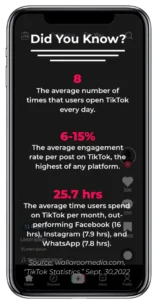 What is TikTok?
TikTok launched in 2017 as a short-form video social media platform. TikTok's immersive video app has quickly gained popularity. The platform has reached over one billion monthly active users in just five years, a feat that took Facebook and YouTube eight years to accomplish.
TikTok is especially popular among Gen Z and millennials, which communicators sometimes struggle to reach. The platform presents what could be a valuable access point for schools to engage with students and parents, but it has users across all demographics, making it a valuable place to reach a wide audience with video content.
Concerns about TikTok
What makes TikTok so appealing to users is also what can make it difficult for public sector communicators to succeed. The short video content format is a different content type than any other social media platform currently emphasizes. The most popular videos on TikTok are informal and lean on humor, often featuring dances or pranks — content that isn't typically appropriate within the public sector's communication strategy.
Besides possible difficulties finding success on a new and different platform, government communicators have had concerns about the security and legal compliance of posting on TikTok.
Security and Compliance
There have been general security concerns with TikTok, but the most concrete issue for public agencies and school districts has been the inability to archive TikTok content. Any videos posted on a public agency's account would constitute a public record and be subject to federal or state records retention requirements. Since TikTok has no obligation to preserve users' content, any public records created could be lost and unavailable in the case of a records request.
Archiving hasn't been available through most social media archiving tools because the application itself doesn't have a fully open API. This makes archiving content directly from the platform a challenge. It's also why most solutions on the market can only offer content capture on-demand from outside a customer's account rather than the continuous near-real-time capture that CivicPlus' Social Media Archiving tool can provide.
TikTok currently only offers access to certain kinds of content through its API. CivicPlus will update its capabilities as TikTok allows. Connecting your TikTok account to your Social Media Archiving software will store your videos and profile information automatically and in near-real time.
CivicPlus Offers TikTok Archiving
The CivicPlus Social Media Archiving tool captures your organization's TikTok content directly through API integration and stores that content securely in its native format with metadata. When you share videos, they are automatically captured and stored in your archive. Our software also uses backtracking to retrieve your account history and capture any previously shared videos.
CivicPlus Social Media Archiving automatically archives videos without any additional action from you. Other tools work from outside your account and only take snapshots on command. They cannot capture content in near-real-time with metadata. With CivicPlus, your archive is accessible 24/7 and allows you to add annotations, tags, and more to categorize your content.
TikTok tips
Ready to leverage TikTok as part of your engagement strategy? Before you press record on your first video, remember that the keys to success on TikTok are a different than on other networks. Here are a few tips to get you started.
1. Do Research
To make great TikToks, you have to watch great TikToks. See what kind of videos are performing well on the app right now. To get started, check out this article on how some public agencies and government organizations create innovative and engaging content. Watch some of their videos to see what works for other organizations.
Understanding what content is popular on the app will help you with step two.
2. Get Trendy
If you've ever jumped on a meme bandwagon, like the Instagram egg photo or the Dolly Parton Challenge, you've probably noticed that it can increase your audience engagement. The same goes for TikTok. Riff on existing memes and other popular TikToks or incorporate sounds, hashtags, effects, and filters currently trending on the app. TikTok videos frequently reference each other and build off of other content.
Even if you're not jumping on TikTok trends, it's a good idea to be relevant. What's timely or in the news that you can relate back to your organization? You're used to thinking of these ideas for other social media platforms, but you've got to think about them in terms of video. On the first day of winter, film the fire chief giving space heater safety tips. Or give a behind-the-scenes look at an upcoming holiday event.
3. Be Human
People relate to other people, so try and get as many people in your organization involved as you can. Humor is also a great way to gain popularity. It's always tricky to be funny on purpose, but it's what TikTok users have come to expect. While no one expects government accounts to post stand-up comedy, taking a humorous or light-hearted approach is a good idea. Funny PSAs and event promotions are likely to do well on TikTok and reach a wide audience.
There are certainly other types of content that perform well on TikTok, like nature videos and how-tos. But TikTok is a platform that appreciates less serious content, so it's not the place to make emergency announcements or address policy changes.
Start your TikTok Archive
If you're interested in starting your TikTok archive with ArchiveSocial, start your free trial here or schedule a demo.