Social Media Risk Management & Analytics
Unleash the power of the data in your archive with social media monitoring, alerts, and reports
Preview the power of RMA in your Social Media Archiving archive.
RMA is a suite of customizable social media monitoring and alerting tools for your archive with robust reporting to increase your control, responsiveness, and insight across your entire social media portfolio.
See How Customers are Using Proactive Social Media Listening to Reduce Risk and Control the Conversation
Social Media Archiving not only gives our PR team peace of mind with archiving, they also give us an entire toolbox of analytics, search, sentiment ratings, and more!
Emily Garner
Public Information Officer and Social Media Archiving Customer
Green Utilities Commission
Explore everything you can do with RMA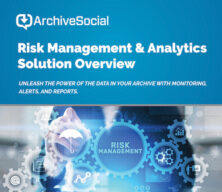 Get More from your Social Media Data
RMA keeps a pulse on your organization's social presence by monitoring social media every minute of every day. It analyzes and monitors the content posted and notifies you on the activity you care most about. So you can easily uphold your entity's reputation and moderate content that violates your terms of use. And with powerful dynamic reporting, you can quickly gain insight into what's working and what needs improvement for campaigns and accounts over time, or for a specific topic or event.
Download the RMA Solution Overview
Social Media Archiving's functionality, ease-of-use, compliance, and reporting features are better than their competitors. I was impressed by how simple it was to add accounts and to pull up records. Brilliant!
David Brauhn
Communications Manager and Social Media Archiving Customer
City of Walla Walla, Washington
Take even more control of your social media with Risk Management & Analytics
RMA is built into your archive and available to all Social Media Archiving accounts with an Economy Plan or higher.