5 Reasons Your Government Agency Should Get Verified on Facebook/Meta
Have you ever wondered what that little blue checkmark badge some agencies have next to their name on Facebook does? What if I told you that it actually grants agencies access to additional features that can help you improve your reach and get critical messages out? If you want to learn more about these perks, keep reading to discover why verifying your Facebook page could be worth your organization's time and money.
#1 – Local Alerts
The first great reason to become verified is to gain access to Facebook's local alerts feature. Local alerts act like super posts that will appear to everyone in the affected area (even if they don't follow your page). In times of emergency, this is a great way to make sure your message reaches as many people as possible as quickly as possible. Click here to learn more about it.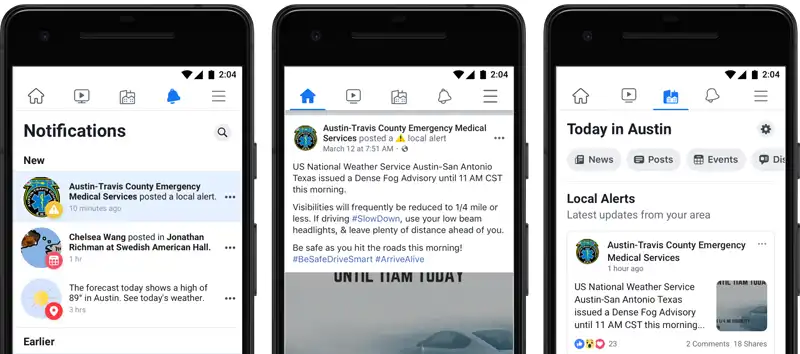 #2 – Increased Visibility
Another perk of verifying your agency with Facebook is increased visibility. We all know that keeping ahead of Facebook's algorithm to make sure your posts get seen is no easy task. But there is something you can do to help. Once verified as a government agency, Facebook will show your page to more people.
#3 – Control Misinformation
Facebook verification can also help fight misinformation. The blue verification badge lets people know that your page is authentic and credible, protecting you against any impersonators. Verified Pages are shown higher in search results, making it easier for your community to see you as the source of truth when seeking information.
#4 – Enjoy the Good, Avoid the Bad
Facebook verification isn't just about receiving perks but reducing negatives too. For example, Facebook scrutinizes topics that may be more common in your line of work. Such as social issues, elections, and politics. If you want to advertise on Facebook about any of those topics, you have to have a verified page. And if you try running an ad without being verified, your advertising account can become restricted or worse. Here's a snippet from Facebook explaining the restrictions:
"In order to show who has claimed responsibility for your Page, you'll need to verify your business first. If you run ads about social issues, elections, or politics in the US, we will require you to go through this extra step of verification. "
#5 – Better Protection
If I still haven't convinced you to verify your agency on Facebook, consider this last thing. Government agencies tend to make prime targets for bad actors. So if you get hacked, an employee goes rogue, or you otherwise lose control of your page, it's tough to reverse, and you may have to start again from scratch.
But a Facebook verification badge can help protect you against those worst-case scenarios. Part of the verification process ensures that your page is set up correctly with safeguards against those very problems. And not to mention, establishing a relationship with Facebook and having the ability to contact them can make it a lot easier. Facebook even provides a best practice checklist, recommending things like:
Enabling two-factor authentication
Take Facebook's security checkup
Take Facebook's privacy checkup
Enroll in Facebook Protect
But is it worth paying for? In short, yes. Paying the cost to get verified now will pay dividends long into the future. We've covered the main benefits of verifying your page on Meta/Facebook, but in the end, the peace of mind may be what is worth the most.
Learn more about paid verification for Meta/Facebook and get started.
Is it possible to qualify without paying? In certain cases, yes, it is possible to attain verification without payment, but be advised that this will involve a little more time and effort on the part of your organization.
Learn more about how to request a verified badge on Meta/Facebook.
Convinced you should get the blue check mark?
Check out these steps you can take to get verified on Facebook and Instagram and Facebook's Verification FAQ.