They say a picture is worth a thousand words. But how much is an archive of pictures worth? Well, when Facebook acquired Instagram in 2012, they told the world that the growing photo-sharing service was worth at least $1B. Since then, businesses and organizations of all types have recognized how valuable it can be to engage an audience with photos, videos, and — of course — filters. This also means businesses have encountered the challenge of fulfilling compliance requirements and record-keeping policies when it comes to using Instagram. For that reason, we are excited to announce that our Social Media Archiving software supports archiving Instagram.
Instagram Archiving with the CivicPlus® Social Media Archiving Solution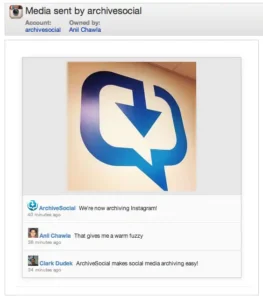 Our existing customers can get started with archiving Instagram right away. Simply navigate to the Account Management portion of our user interface and choose to connect an Instagram account.
As usual, your Social Media Archiving tool (formerly ArchiveSocial) will retroactively archive your existing history on the network and then continuously archive your communications moving forward. All photos, videos, and comments are captured in a 100% authentic fashion and are secured with digital signatures to ensure that your Instagram records can serve as legal evidence if needed. And, of course, Instagram content is available in our instant search interface and can be exported alongside your other social media records.
Most importantly, support for archiving Instagram is yet another great feature included with every Social Media Archiving software subscription plan. There is no additional charge for archiving Instagram as long as you remain within your existing record volume and account limits. And there is no charge for data storage.
So how much is an archive of pictures worth? Practically speaking, an archive is invaluable, but our new Instagram support might be completely free if you have an existing CivicPlus Social Media Archiving software subscription. Don't have a subscription with us yet? Learn more about our powerful software and sample an archive of your own social media.