James City County Relies on CivicPlus for Digital Self-Service Solutions
To help create positive digital interactions between residents and local leaders, the County partners with CivicPlus for the design and hosting of its website and integrated chatbot functionality.
A Digital Website Experience Worthy of a Lasting Legacy and Unlimited Future Potential
Before implementing a new website from CivicPlus, James City County faced the challenge of needing to update and modernize outdated content.
"Over time, our previous website, which we had maintained for years, became difficult to handle," said Tina Colonna, James City County Web & Publications Supervisor. "We had well over 10,000 PDFs on our website and so many pages. So we decided to migrate to a content management system (CMS)."
The migration involved enhancing the website with digital resident self-service functionality and migrating formerly paper-based forms and workflows to digital, helping the County improve its digital accessibility compliance.
A Chatbot to Enhance Digital Resident Self-Service
Committed to continual innovation and improvements in how the County communicates with and serves its residents, in July 2021, it integrated the CivicPlus Chatbot[1] into its CivicPlus website.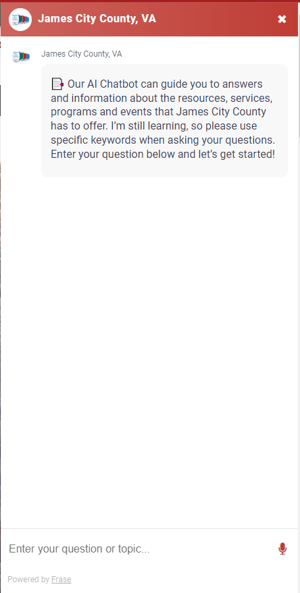 "People like it," said Colonna about the CivicPlus Chatbot. "It's steadily increasing in usage."
The CivicPlus Chatbot offers convenience for residents and opportunities for the website administration team to understand better the types of information residents are searching for and then strategically fill in inadvertent content gaps. One example of new content the County has added to its website based on chatbot searches relates to jury duty.
"We were receiving many questions about the jury duty process, who's eligible, what to do if you need an exemption, and how much you can get paid," said Colonna. "We realized we didn't have those details available online, so we worked with our Clerk of the Court to add them. It's just one way the Chatbot is helping us develop content for our website. If a municipality doesn't have Chatbot, I would encourage them to get it."
[1] CivicPlus Chatbot is powered by Frase