Weatherford, TX Implements CivicRec Time-Saving Parks and Rec Software
Keys to Project: :
Sports Leagues, Activity Registration
The City of Weatherford, Texas is the kind of community where people want to live, work, and do business. That's in part why its population of 30,000 is set to double in the next five to ten years. Located 20 minutes west of Fort Worth, Weatherford prides itself on its history and heritage, and for being the type of community that offers a family-oriented way of life. With so many families and long-time residents looking to take advantage of all the City of Weatherford has to offer, its Parks, Recreation, and Special Events Department was in need of a flexible, robust parks and rec management software.
We got to customize the software," said Taylor. "That ended up being one of the best things about the implementation process. A trainer from CivicRec helped us set it up, but we got to customize it, so we got to manipulate the program to ensure it could accommodate our processes and what we needed the system to do for us.
Grant Taylor
City of Weatherford Recreation Manager
The City of Weatherford's Parks, Recreation, and Special Events Department is responsible for adult athletic leagues, special events and activities, the scheduling of rentals associated with three community buildings, six park pavilions, and five ballfields, and maintenance of 500 acres of parkland, including the City's 13 parks. With so many available resources, the Department needed a software solution that could accommodate not only the scale of its operations, but the current trend toward mobile technology and the community's steady population growth.
When the City was ready to move beyond the limitations of its current parks and rec software, it chose the partner that could best accommodate its needs with an affordable, service-oriented solution: CivicRec® from CivicPlus®.
According to Grant Taylor, City of Weatherford Recreation Manager, before transitioning to CivicRec, the City utilized a recreation management software that failed to meet its needs based on the structure of its module feature integrations.
"All feature modules were priced separately," said Taylor. "To add any additional functionality, we would have to pay to implement each separate module, and it just became cost prohibitive."
One essential element of the system's functionality that the City did not have access to was the module that would allow citizens to self-register for activities.
"It wasn't affordable," said Taylor, "So we were accepting paper registrations and then entering them into the system ourselves."
When the Weatherford Parks, Recreation, and Special Events Department simply wanted to integrate a map feature into its previous software, and it realized the pricing was again prohibitive, Taylor and his team knew it was time for an affordable solution that could better scale to fit the City's needs.
Finding a Robust Parks and Recreation Management Partner
To research viable solution partners, Taylor contacted several rec management software providers. He spoke to a representative from each company and asked about the requirements that were essential for the City of Weatherford. Some of his questions included:
Is the software cloud-based?
Will it integrate with our existing financial platform, or does it only work with specific payment gateways?
What level of customer service support do you offer?
Can we set up a trial account?
After speaking to all the prospective software solution providers, Taylor chose the option that offered the greatest versatility and met all of the City's non-negotiable requirements: CivicRec.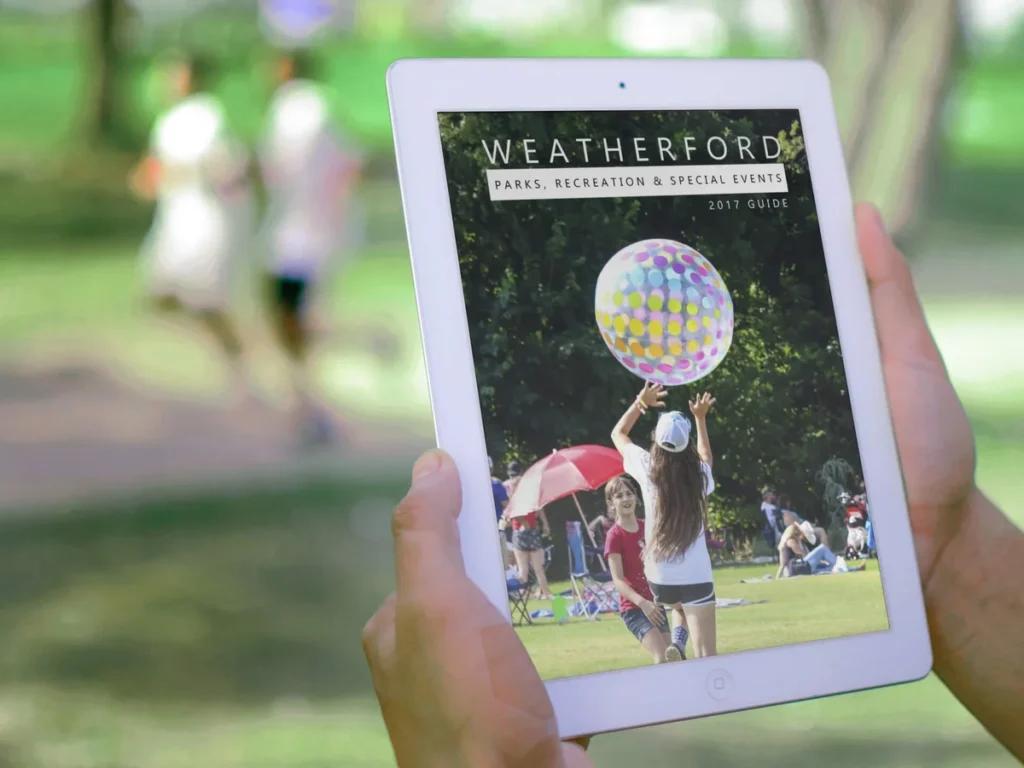 Implementing a Single, Feature-Rich Solution
Unlike its previous parks and rec software system, with CivicRec the City of Weatherford didn't have to pick and choose features and functionality based on its budget. CivicRec offered a comprehensive, end-to-end parks and recreation activity and registration management solution that integrated with the City's existing financial platform.
Post Implementation
Now that The City of Weatherford has access to a fully-functional parks and rec management solution, Taylor and his team have greater access to more convenient administrative functionality. Also, citizens can finally self-register for leagues, events, and activities online, which has dramatically reduced the City's need to accept, enter, and file paper registration forms. For a community that previously was unable to offer online registrations, 33 percent of the City's parks and rec program participants are now registering online.
"The online registration system has been especially valuable for parents looking to register their kids," said Taylor.
Going Paperless with Greater Administrative Efficiency
Thanks to the implementation of the CivicRec parks and recreation management solution, the City of Weatherford's Parks, Recreation, and Special Events Department is now efficiently able to manage community events and registrations, and it's even reducing its carbon footprint.
"It's been over a year since we've implemented CivicRec and the system has helped us to streamline and improve many of our internal processes," said Taylor. "With the previous system, since so many elements were not integrated, we had to keep lots of manual notes, like whether or not someone had submitted payment. CivicRec keeps track of it all. No more paper applications and checks. Our office is almost entirely paperless now."
If you're ready to replace a parks and rec software with limited functionality with a fully customizable, powerful parks and rec management solution, click below to download our white paper to find out what to look for when switching software.
Ready to Connect?
Stay up to date with the latest tips and news for local governments.