The City of Portsmouth, VA Tackles Website Accessibility Head-On
Keys to Project: :
Accessibility, AudioEye Partnership
City:
The City of Portsmouth, VA Tackles Website Accessibility Head-On
They say that Virginia is for lovers, and in the City of Portsmouth, there is much to love. With three centuries of historic neighborhoods nestled along the Chesapeake Bay, The City of Portsmouth is the type of community families love to visit, and that residents never want to leave. The municipal leaders in Portsmouth work hard to protect their community and their citizens and strive to give residents and visitors every opportunity to benefit from public service offerings and maximize all the City has to offer. In today's world of digital-first communications and mobile device proliferation, a successful citizen engagement strategy has to focus on equitable and easy access to digital news, information, and resources, which is why the City of Portsmouth has long been committed to a digital content strategy that aims to ensure accessibility.
With the latest updates to Section 508 of the Americans with Disabilities Act (ADA) raising awareness of accessibility compliance at the municipal level, the City of Portsmouth's Information Technology (IT) leadership decided it was an opportunity for it to enhance its accessibility offering for even greater compliance. To take advantage of the latest innovations in digital accessibility, the City of Portsmouth turned to its website design and hosting partner, CivicPlus for support.
With CivicEngage, we know we are working with a stable platform relative to compliance," said Jones, "But as we made changes to our content, manual accessibility reviews and updates became standard parts of our website management process.
Daniel Jones
City of Portsmouth Chief Information Officer
The Goal of Enhanced Accessibility Compliance
According to Daniel Jones, City of Portsmouth Chief Information Officer, while the City had always worked diligently to ensure its website was accessible to all citizens, the 2018 refresh of Section 508 of the ADA provided an opportunity for the City's leaders to ask what else it could be doing to ensure accessibility.
"We are here to serve all the citizens of the City of Portsmouth," said Jones. "That includes citizens who are technology-advanced, citizens who are less familiar with digital media, and citizens who rely on assistive technology devices to consume digital media. We believe all citizens should have access to our City's resources, so while we were watching the conversations regarding ADA compliance as it was impacting federal websites, we reached out to our CivicPlus account manager to ask if there was an integrated solution that could be incorporated into our current platform. Soon after, CivicPlus announced its partnership with AudioEye."
In the fall of 2017, CivicPlus partnered with AudioEye, Inc. to provide enhanced ADA-related digital accessibility capabilities to its local government website design clients that utilize its CivicEngage® content management system (CMS). AudioEye offers industry-leading software that enables public and private sector entities to make their content more consumable through technology. The AudioEye technology platform monitors websites as they grow, automatically fixing issues to ensure accessibility compliance using a range of assistive technology.
Before CivicEngage and AudioEye
Before integrating the AudioEye solution into its CivicEngage website, the City of Portsmouth's digital administrators worked diligently to maintain digital compliance through a manual process of content management.
"Especially after the migration to CivicPlus we concentrated on fostering a mindset of ongoing compliance," said Jones. "As best as we could, we manually took steps to ensure our text, photo, and video content was compliant so that our website was as accessible as we could make it. Our goal was to ensure an accessible experience for any citizen using assistive technology."
While ongoing compliance became a City-wide goal, it has meant a continual commitment to content creation, updates, and optimization.
Implementation
Jones and his IT staff were primarily responsible for working with CivicPlus and AudioEye to implement the accessibility remediation solution.
"It was not a lengthy implementation process," said Jones. "We reviewed AudioEye's solution to ensure it met or exceeded our security standards, which it did, so we held a kick-off call, established due dates and deliverables, and moved forward. Currently, the integration has completed phases two of three and has enabled citizens to begin to use the assistive technology while interacting with our municipal government."
Accessibility Compliance and Remediation Functionality
In addition to the implementation of AudioEye's website monitoring functionality, the City of Portsmouth chose to implement the AudioEye Toolbar. The AudioEye Toolbar is a proprietary assistive tool that can be placed directly on a website, allowing users to customize their individual website experience. It offers users a wide range of assistive capabilities, including a dyslexic font, adjustments to color contrast, font size and navigation, keyboard controls, a player that will read site content aloud, and the ability to use voice commands to navigate.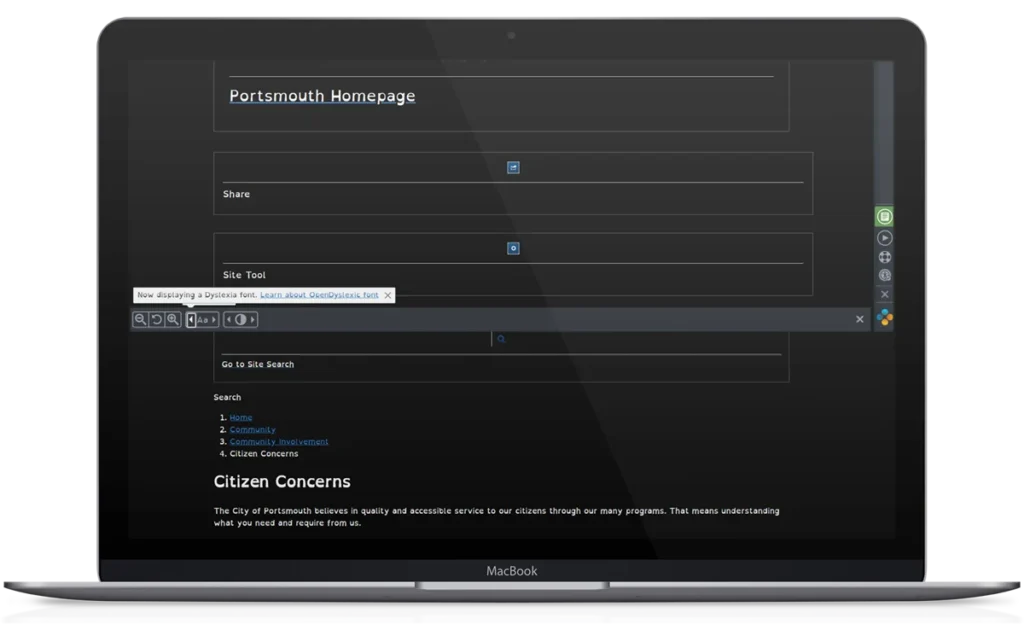 Achieving the Highest Possible Accessibility Standards
For the City of Portsmouth, improving its website's accessibility is not about complying with laws and mandates. It is about doing what is best for the citizens it serves.
"We feel that just because Section 508 currently applies only to federal websites and not local government websites is not a reason not to make improvements to better service our citizenship," said Jones. "The implementation of CivicPlus' AudioEye solution not only allows us to offer citizens a better experience, but it also provides us with access to a subject matter expert on digital compliance, which alleviates most of our concerns regarding Section 508. Our IT Department is a support department. We are responsible for various monumental tasks. Having an internal staff member certified  in compliance and trained to act as our dedicated subject matter expert on Section 508 is not feasible, and fortunately, it's not necessary since we have CivicPlus as a partner that can provide us with an accessibility solution as part of its offering."
Even with the implementation of the AudioEye solution, Jones and all of the digital content managers in the City of Portsmouth are not allowing their focus on accessibility to waver.
"We will continue to follow the same processes of optimizing content when we add or update pages," said Jones. "AudioEye's solution may be our last line of defense, but it is still our job to follow compliance best practices, and that is exactly what we intend to do."
Is your current website compliant with the latest requirements of WCAG 2.0 A and AA? Download our compliance checklist to determine opportunities to provide more equitable content to your citizens.
Ready to Connect?
Stay up to date with the latest tips and news for local governments.