Fairfield, California Stays Transparent and Compliant with ArchiveSocial & NextRequest
City:
Fairfield, California
The Sun Shines Brightest on Public Records in the Golden State
How Fairfield, CA Promotes Digital Transparency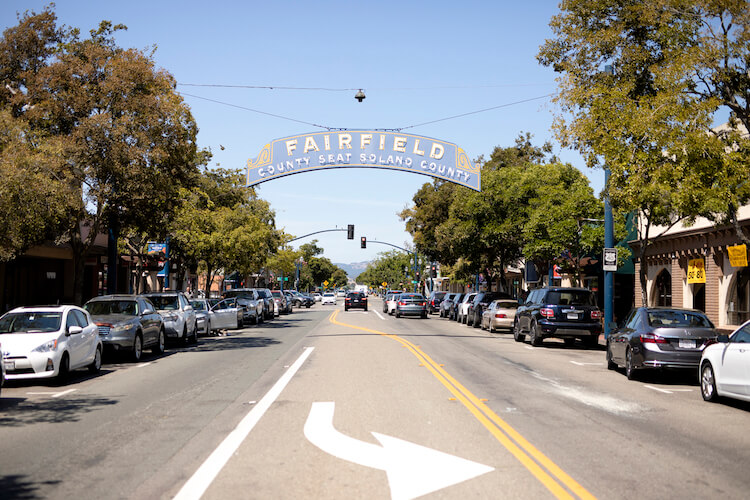 Along Interstate 80 between San Francisco and California's Capital of Sacramento, lies the City of Fairfield, a picturesque North Bay municipality in which just under 120,000 Californians reside. To outsiders, the city is known as the home of Travis Air Force Base and the Jelly Belly Candy Company, makers of the world-famous Jelly Belly jelly beans. To those who live within city limits, Fairfield has earned its reputation as a beacon of transparency because of how it handles its public records and social media. In order to meet their goals, Fairfield's public servants rely heavily on NextRequest and ArchiveSocial software solutions to meet their transparency goals and remain compliant with the California Public Records Act.
How Fairfield City Hall Ensures Transparency
The Fairfield City Clerk's office only has two employees and as one of those employees, Deputy City Clerk Amber Alexander handles all public records requests directed to the city; and there are a lot of requests. In 2021, Fairfield received over 200 public records requests and as of March 2022, the city was on pace to receive triple that number. It became clear that if the city was going to be able to answer the influx of requests in a timely fashion, change was desperately needed.
NextRequest was the solution
The city leveraged NextRequest to help change its public records request policy and streamline its overall process with a public-facing records request portal and optimized workflows. Now, all non-police-related requests are submitted to the City Clerk's office instead of initiating at an individual agency.
"We've now made it a policy where we have to put it (all public records requests) in NextRequest," said Alexander. "That way, we don't have duplicates, and we can track how many we're getting and make sure we're compliant. It saves a lot of time."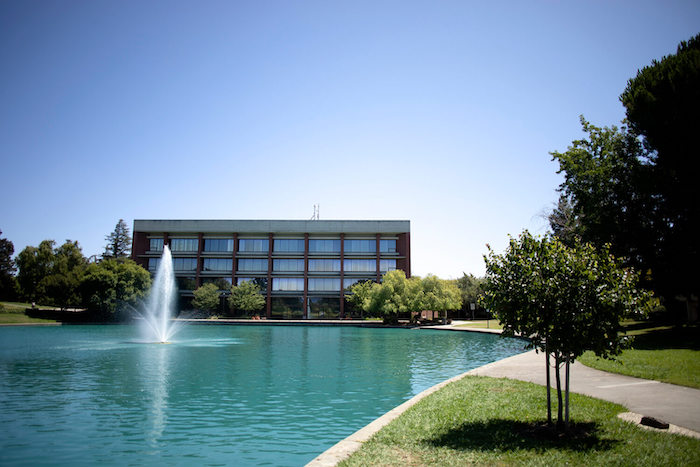 Meeting CPRA requirements and improving workflows
The California Public Records Act requires records requests to be responded to within 10 days and for any digital requests to be fulfilled for free, which grants Californians some of the quickest and least expensive access to public records in the United States. By utilizing NextRequest's Automatic Alerts, Assignment Notifications, and Requestee Portal, Alexander and the City of Fairfield have dramatically cut their public records response time, freeing the City Clerk's office and other agencies to tend to other pressing matters.
"Before implementing NextRequest, (records requests) took either the full 10 days or we had to ask for extensions a lot," Alexander said. "People weren't focused on (the requests), they'd start doing other things and forget about it and I'd have to constantly remind them, where now they have tasks, they have one place that they can go to and look instead of me constantly emailing them and telling them, so it definitely has cut down on our response time and made (records request fulfillment) more efficient."
Prior to NextRequest, workflows were time-consuming and costly for the city as documents had to be sent and reviewed individually to a contracted attorney. Now that Fairfield utilizes NextRequest, all communications occur within the program, and information can be transferred securely and instantaneously when they need to contact their attorney for a decision on how certain requests should be fulfilled.
Before implementing NextRequest, [records requests] took either the full 10 days or we had to ask for extensions.
Amber Alexander
Deputy City Clerk Fairfield, CA
Building trust with transparency
NextRequest's "Rapid Review" also helps promote Fairfield as a transparent city by allowing Alexander to produce records requests in a timely manner. No matter the outcome of a request, all responses are posted publicly in the forward-facing request portal for all constituents to access.
"Transparency is very important," said Alexander. "And that's why every request that comes in, we post publicly that way, even if it's something controversial, we will still show that hey, we follow through, this is what we released. This is what we have. If we deny something, it's still there to show why it was denied. So it's very important to us and we try to put out as much information as possible."
Prior to the implementation of NextRequest, Alexander said records requests involving the Cannabis permitting process were very time consuming. As constituents became interested in the nuances of permitting a new legal dispenser or grower, they want to make sure Fairfield has completed the process properly.
"We were fulfilling cannabis-related requests before we got NextRequest and it was really hard, especially with hundreds of emails to go through," explained Alexander. "We've received requests wanting every email with the word 'cannabis' in it. And we have to go through IT and every employee's emails and search for that word and zip those files, then open each PDF, and redact every single email. It would take weeks. Now we can just upload the zip into NextRequest and batch redact it, which has saved so much time."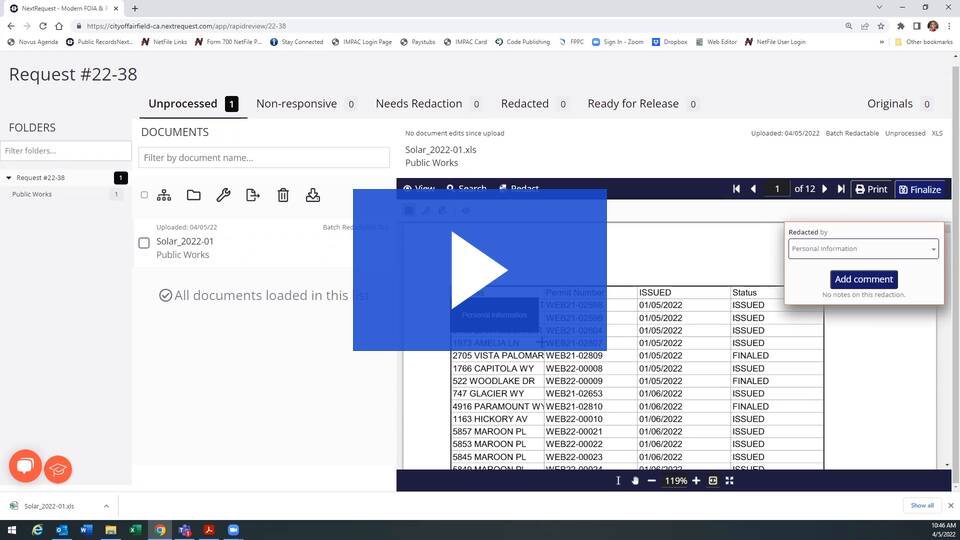 Fairfield, CA Promotes Transparency with ArchiveSocial & NextRequest
How Fairfield Police Department Simplifies Social Media Compliance
In 2022, one of the easiest, least expensive and meaningful ways to build connections with the community you serve is through social media. This has been a great tool for the Fairfield, CA Police Department which prides itself on strong communication and transparency. But social media is a two-way street and under the California Public Records Act, all posts, comments, images, videos, and meta-data associated with produced content are public record. These posts can be used to aid in investigations and logged as evidence.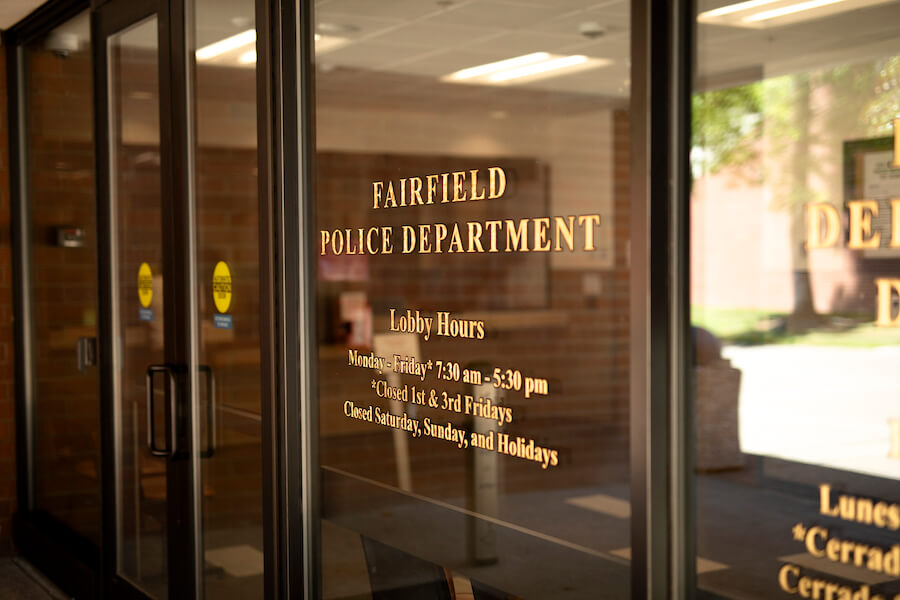 Police Support Manager Jeremy Profitt leads the Fairfield Police Department's social media efforts. With a multi-faceted strategy and almost 100,000 followers across Facebook (Meta), Instagram, Twitter, and other platforms, the Department's social media accounts reach about 85% of the city's current population and create almost 3,200 public records monthly.
Maintaining records and relationships with ArchiveSocial
In order to meet its obligations under the law, the Fairfield Police Department has turned to ArchiveSocial to continuously archive its social media accounts and help mitigate online risk.
"My passion has always been community engagement and community outreach," said Profitt. "While I was in the military, I had the wonderful opportunity to serve in multiple countries, Iraq, Afghanistan, and that community connection with other countries, really built relationships and built bridges. And with today's time and technology, I can reach a broader audience."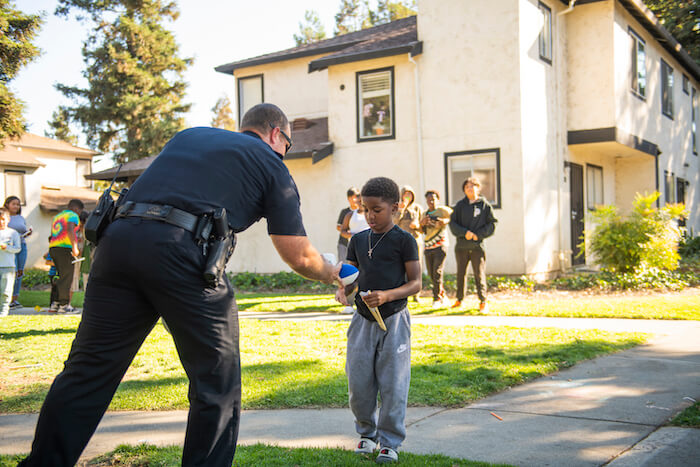 There are more citizens in the City of Fairfield than city staff. Social media allows the city to reach, connect and bridge our community to their local government. To the Fairfield Police Department, transparency includes engaging in conversations with those who comment on department social media channels as well as providing accurate public records related to social media as they are requested. Officers of various ranks and commands have department-issued social media accounts from which they can communicate with the public and share perspectives from their particular beat. With ArchiveSocial, staff can now easily maintain these records, regardless of whether an individual account still exists, and distribute the requested information in a timely manner when needed.
"Archiving and documenting our social media is not only the law but it's also critical because we do get a lot of public records requests," said Deanna Cantrell, Chief of Police at the Fairfield Police Department. "Being able to house that and hang onto all of it in a fashion where we can go find it is incredibly important and if we didn't have (ArchiveSocial) then we couldn't be transparent."
Profitt expanded, "There are messages we have to put out there that we are definitely sad that we had to share. But it's important that our community knows whether we did good things or whether we messed up and did bad things. So transparency means sharing it all."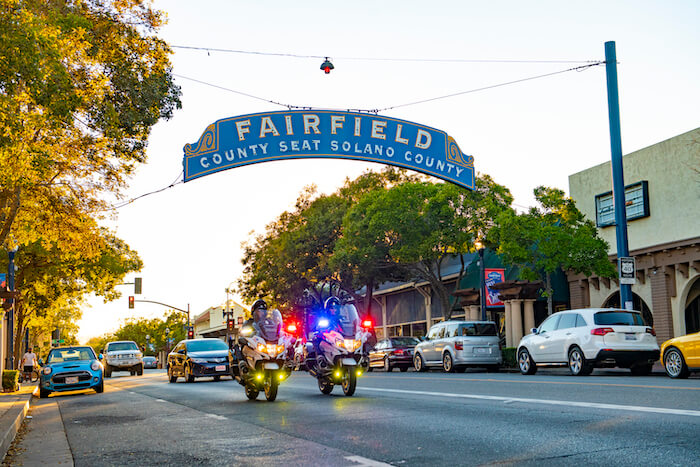 Monitoring the situation with custom alerts
As with any marketplace of ideas, sometimes people make statements that can be deemed threatening or even illegal. In such cases, the Fairfield Police Department utilizes ArchiveSocial's Risk Management and Analytics feature to create Keyword Alerts to determine in real-time if there is an active threat against a person, place, or group.
"Unfortunately, we have had department staff directly threatened with a personal information release saying that they're going to cause harm to an individual," said Profitt. "So Keyword Alerts help us keep our citizens and department safe."
"Citizens also have the due process to show this is what was done or not done. It's not just 'he said, she said', but a tangible piece of documentation, archived. So it helps us but it also helps the community to keep their rights preserved as well."
[ArchiveSocial] Keyword Alerts help us keep our citizens and department safe.
Jeremy Profitt
Police Support Manager Fairfield Police Department
Protecting citizens' rights online
To ensure the First Amendment rights of constituents are protected the police department also has a no-blocking policy.
"We do not block anybody in our department," said Profitt. "Blocked Lists Management is a feature that allows us to detect if an individual officer blocks (someone) so we can immediately make sure that the account gets unblocked."
ArchiveSocial is also able to assist California Police Departments remain compliant with Section 13665 of the California penal code. This new law has made the process of archiving social media posts as important as it has ever been.
"Legally, we have to take down certain suspect photos from social media," explained Profitt. "With ArchiveSocial, I can track where that post is and with the push of a button, it searches all of the posts connected to that person's name, I can now remove the photos so we are in compliance but I can also show an audit trail that the photo was there but that I also took the photo down. So it is transparent, follows state legislation, and gives people due process."
What is Section 13665?
Section 13665 of the California penal code governs blocking photos of suspects posted to social media. If an individual's photo has been shared and they are later deemed not a suspect or have been found not-guilty during their trial, the photo must be removed from social media postings.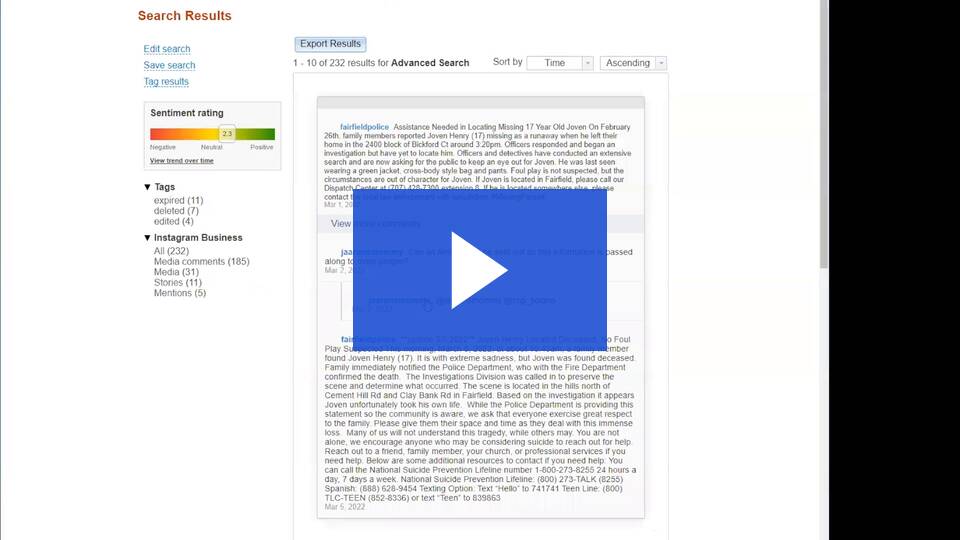 Fairfield, CA Promotes Transparency with ArchiveSocial & NextRequest
Better Serving the People of Fairfield, CA
Whether it is a city handling public records requests or law enforcement attempting to connect with its community, Optimere's product line features solutions to help municipalities transcend the current definition of open government. In the case of Fairfield, CA, efficient transparency is at the forefront of what the city's public servants strive to accomplish every day. With the help of ArchiveSocial and NextRequest, Fairfield, CA is able to reach these goals with just a few clicks of a mouse.
"Transparency is a big word that means a million different things to a million different people," said Cantrell. "For us, I equate it to the word trust. Transparency is about sharing as much as we can with the community and the way the world is today, they have information at their fingertips and they expect a lot and they expect to know what is going on."
Ready to Connect?
Stay up to date with the latest tips and news for local governments.